Flying the Blue Flag on Cape Town beaches
10 Cape Town beaches awarded the full Blue Flag status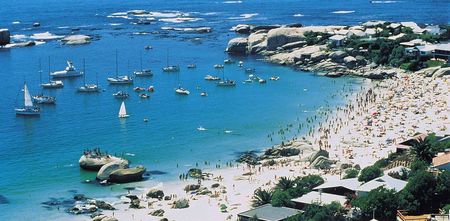 Image credit: southafrica.net
A Blue Flag is an international award given to beaches that meet excellence in the areas of safety, amenities, cleanliness and environmental standards. As South Africa enters its 10th year of running the Blue Flag programme, we can proudly say that we are sustaining excellence in beach management and that our beaches rate among the best in the world.
South Africa is the first country outside Europe to win Blue Flag accreditation for its beaches. Cape Town presently has the most Blue Flag beaches, with a total of 10 beaches awarded the full Blue Flag status, and one beach awarded pilot status. The Wildlife and Environment Society of South Africa (WESSA) noted that the Western Cape has achieved the highest number of Blue Flag sites, with 29 of the beaches. All Blue Flag beaches have their water tested every two weeks to ensure that the quality meets international standards.
The Blue Flag beaches for the 2016/2017 summer season are:
Bikini Beach (Gordon's Bay)
Camps Bay Beach
Clifton 4th Beach
Mnandi Beach
Strandfontein Beach (near Strandfontein)
Llandudno Beach
Silwerstroomstrand
Melkbosstrand
Muizenberg Beach
Fish Hoek Beach
Seaforth Beach (pilot status)
The Blue Flag is awarded to beaches that comply with the following Blue Flag criteria:
Water quality
Environmental education and information
Environmental management
Safety and services
Cape Town's Blue Flag season is from 1 December to 31 March each year. For more information on the Blue Flag Programme, visit www.blueflag.org.
See original article at capetown.gov.za