Celebrating Heritage Month: 10 Favourite Local Foods To Try In Cape Town
Rich in culture, heritage, and diversity - South Africa has culminated into a destination that consists of unique dishes and drinks that have become a beloved part of our tradition. 
Each dish has its own unique story and that is what makes it even more special! Here is a list of 10 South African favourites that you should definitely dig into when in Cape Town!
1. The Great Gatsby
Be sure to roll up your sleeves because this one is messy! 'Accidentally' created by Rashaad Pandy in the 70's, the great Gatsby has crept into the hearts of many, and very quickly became a Capetonian crown jewel. This footlong roll stuffed with hot chips, fillings of your choice, all immersed in an abundance of sauce is perfect to enjoy after a long day at the beach. If you don't like sharing, you'll surely have a change of heart with this proudly South African super sandwich!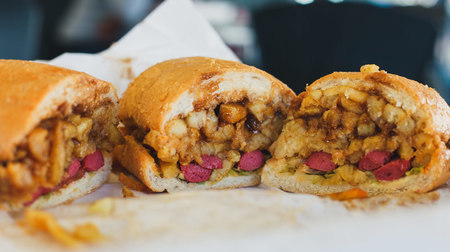 Photo: Shiful Raj / WikiCommons
Where to eat: Be sure to pay a visit to where it all began! Super Fisheries (63 Old Klipfontein Road) is where the very first Gatsby was created. Another Capetonian favourite is The Golden Dish , also located in Athlone, where there is no such thing as 'crazy' when it comes to the stuffing! For the vegans and vegetarians – Lekker Vegan in town provides a great meat free alternative.
2. The Blazing Braai
If there's one thing South Africans love and take great pride in – it's a good old braai! Come rain or sunshine, there's never an excuse not to start the fire, get out a drink or two… maybe more, and of course start preparing the meat. Many tend to get creative and blend their very own infusion of spices and sauces for a unique dish.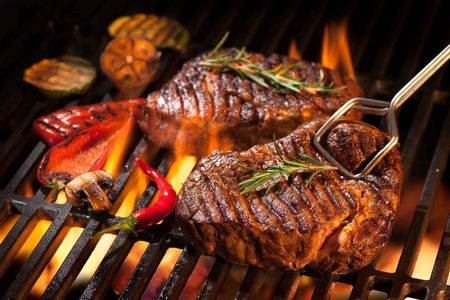 Photo: Val Du Charron Wine and Leisure
Where to eat: If you are keen for a good Shisa Nyama, which is a Zulu translation for 'burn meat', the popular Mzoli's Place (Gugulethu) has got you covered, as well as Inside on Fire Shisa Nyama (Table View).
3. The Unique Cape Malay Cuisine
Dating back to the 17th and 18th century, Cape Malay cuisine is an infusion of Malaysian, Indonesian, and East African roots, creating the perfect blend of fruity, mild, and charismatic flavours. Cape Malay favourites include bredie (stew), dhaltjies (chilibites), spicy curries, and of course koeksisters.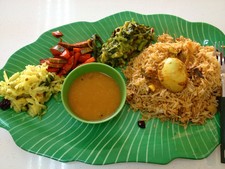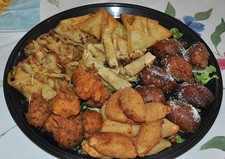 Photo: Jimmy Tan / Flickr                  Photo: Julie Scheer / WikiCommons
Where to eat: For divine Cape Malay cuisine with views of the colourful Bo-Kaap, head over to Biesmiellah Restaurant . Bo-Kaap Kombuis is also said to offer true Cape Town flavour, with amazing views of the mountains!
4. The Brilliant Biltong
Initially created for survival through meat preservation by the Khoi San, this dried meat now known as biltong has firmly placed itself in South African heritage. This chewy and spicy snack is perfect to enjoy during a road trip, or while enjoying a good game of rugby.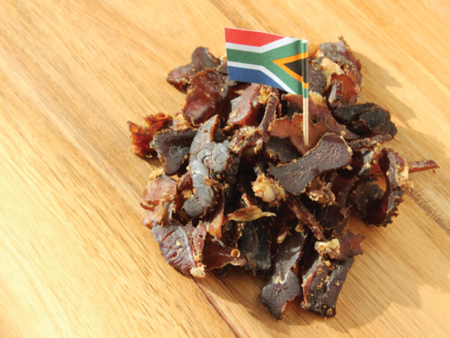 Photo: 2Oceans Vibe
Where to eat: For a variety of the finest quality of biltong, be sure to check out The Biltong Clan in Montague Gardens, Cape Town.
5. The Perfect Peppermint Crisp Tart
Our very own Peppermint Crisp Tart is sure to cure any sweet tooth. Full of childhood nostalgia, this dish layers tennis biscuits, topped with caramel whipped cream, mixed with Peppermint Crisp chocolate – it's an iconic South African dessert, especially during Christmas time.
 Photo: Eatsplorer
Where to eat: The Wild Fig (Observatory) offers a creamy Peppermint Crisp Terrarium, which is the perfect South African way to cure your sweet tooth.
For a Cape style peppermint crisp tart, The Company's Garden Restaurant (Cape Town) has the sweet serving for you.
6.  The Versatile Vetkoek
Translated as 'fat cake' in Afrikaans, or Amagwinya in Zulu - Vetkoek is a traditional dough that is shaped into a ball and then fried. This versatile pastry can be stuffed with anything from curry (Curry Bunny), jam, or even simply eaten as is.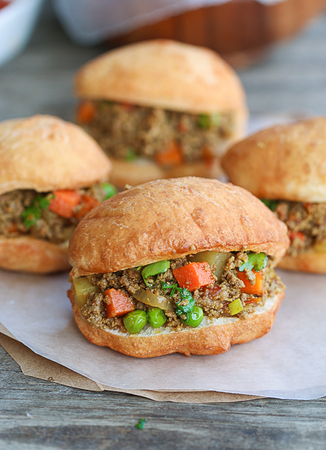 Photo: Immaculate Bites
Where to eat: The Company's Garden Restaurant serves a good curry filled vetkoek as a starter, named Ope Bekkies.
7. The Colourful Chakalaka
Chakalaka is a vegetable relish spicy in taste and colourful in appearance. It may have originated in the townships of Johannesburg, but it has grown to be loved throughout South Africa. It is best served with pap (maize meal), braai, or simply to spice up any dish!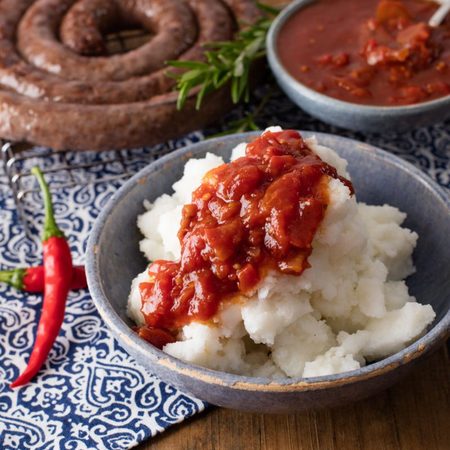 Photo: Rhodes Quality
Where to eat: Cape Town has a profuse range of African themed restaurants for you to pick a Chakalaka of your choice! Our top three picks are GOLD Restaurant , Marco's African Place , and Afrolife and Pitso's Kitchen .
8. The Profound Potjiekos
Pronounced 'poi-key-kos' and directly translated as 'pot food', Potjiekos is a proudly South African way of making stew. This dish includes a mixture of ingredients cooked over open coals, and is best prepared with loved ones and good conversation.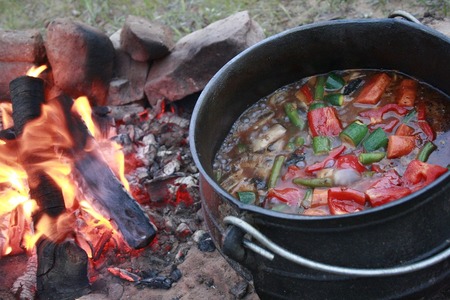 Where to eat: Right in your backyard with good company and even better drinks!
9. The Lekker Fish and Chips
OK, so maybe not unique to South Africa as such, but we like to think we do it best! It's no wonder fish and chips is such a favourite amongst locals given our coastal lifestyle. Fried or grilled to golden perfection, this succulent dish feels like a holiday on a plate.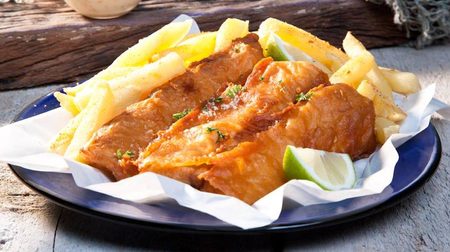 Photo: Crush Magazine
Where to eat: For good fish and chips in a relaxed setting, with views of Muizenberg Beach, head over to Live Bait. If you are in the mood for a more vibrant setting – Kalky's in Kalk Bay is the one for you.
10. The Daring Pinotage
A South African meal is best paired with our very own, unique grape - Pinotage. Dense in colour and bold in flavour, Pinotage is deemed as South Africa's signature red. Pinotage is thank to Stellenbosch's Professor of Viticulture, Abraham Perold's cross-pollination of Pinot Noir and Cinsaut in 1925. It has now become world renowned and can be paired in a variety of ways, regardless of the season!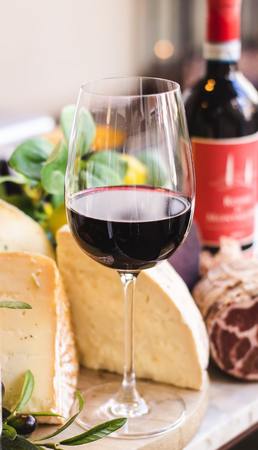 Where to enjoy: Why not enjoy a lovely Pinotage where its first crop sprouted - Stellenbosch, right in the Cape Winelands. Head over to Beyerskloof winery to enjoy a classic and fruity glass of South Africa's most popular Pinotage.