Cape Town Cycle Tour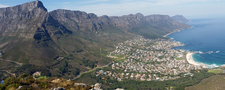 This year the annual Cape Town Cycle Tour will be taking place on 06 March 2016; an entire week earlier than expected
This year the annual Cape Town Cycle Tour will be taking place on 06 March 2016; an entire week earlier than expected 
This is due to The Mother City being a buzz with activities this March. The Cycle tour is currently in their 39th year as the World's Largest timed cycling event. The City of Cape Town is proud to host the Cycle Tour as the opening act of all the events to follow. 
David Bellairs, a director of the CTCTT, explains further: "The Cape Town Stadium has already been booked for a major international show on the same weekend as the Cycle Tour, and after discussions with the City and Province, we agreed to bring the date of the 2016 event forward by a week. As the Good Hope Centre is also potentially not available to host our annual Lifecycle Expo next year, we are considering other venue options for this event."
This year we take a look at all the expected road closures. Download the expected road closures here
We are looking forward to a tight battle between our favourite forerunners and some unexpected surprise entries looking to make a name for themselves. 
This month sees Cape Town as a hub of activities and we are lucky enough to be at the center of it all! The Three Boutique Hotel welcomes all our foreign guests who will be entering this mammoth cycling competition. We wish you all the best of luck on your journey and look forward to cheering you on along the way.